Frequently asked questions
What Supplies does my child need?
---
Instrument in good working condition. School owned instruments are available for $80.00 a year.
Reeds: (Oboe, clarinet, bass clarinet, bassoon and saxophone) must have 3 playable reeds in their possession at all times.
Pencil: Each student needs to have a pencil to be used specifically for band and always in their provided band binder. We suggest a pencil pouch be purchased for this reason.
Binder: A Rosemont Bronco Band binder will be provided to each student at the beginning of the year. Should a student lose this binder they are required to purchase another one immediately and replenish all music lost with a $5.00 cost to band directors.
Binder Pencil Pouch: Pencils are a necessary tool in all band classes, therefore having a pencil pouch in the band binder at all times to hold 3 pencils or more is required.
Name Tag: Students need an identifying tag on their instruments in case it lost or stolen. Please have this for them on the first week of school.
Woodwind Student Accessories

Flute players should have a cleaning rod, and handkerchief swab.
Oboe players should have an oboe swab, reed case and a reed soaker.
Clarinet players should have a silk handkerchief swab, reed guard, and cork grease.
Bassoon players should have a bassoon swab, reed case and reed soaker.
Saxophone players should have swab, reed guard and cork grease.
---
How much does it cost to be in the RMS Bronco Band?
---
Wind Symphony: $35 Band Fee + $80 Instrument Rental Fee (if using school owned instrument) = $120.00 per year
Symphonic Band: $30 Band Fee + $80 Instrument Rental Fee (if using school owned instrument) = $120.00 per year
Concert Band 1: $25 Band Fee + $80 Instrument Rental Fee (if using school owned instrument) = $120.00 per year
Concert Band 2: $15 Band Fee + $80 Instrument Rental Fee (if using school owned instrument) = $115.00 per year
Beginner Band: $15 Band Fee + $80 Instrument Rental Fee (if using school owned instrument) = $110.00 per year
** Please note that Woodwind Instruments cost more to maintain. Woodwind Student will also need to buy a cleaning cloth and Reeds throughout throughout the year for $3.00 each.
** As other unplanned fun trips come up, there may be an extra fee with that as well.
---
What attire is required for the RMS Bronco Band?
---
Semi - Formal Dress (Fall, Winter and Spring Concerts)
Formal Dress (UIL Performances)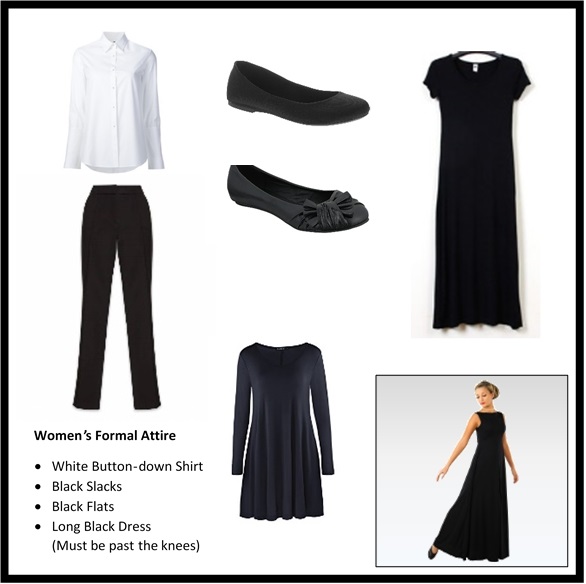 Casual Dress
---
Can I switch Instruments?
---
No! Unless a band director has spoken to the student or parent and initiated the switch, then the answer will always be no. Switching instruments does not allow a band program to grow, and allows for a culture of noncommittal students. Sometimes a band director will notice issues that will keep a student from being successful on an instrument and choose to change to a different instrument. These are rare moments in the band classroom and the band director will initiate. ​
---
Can I be in Band, JCC and other Sports?
---
Yes! As a matter of fact, we want our students to be well-rounded students. As directors we believe that athletics and JCC teach something very different than band and allows for a more well rounded brain development. We work hard with our coaches and instructors to make things work. When sharing activities follow the diagram below to choose which activity you should attend: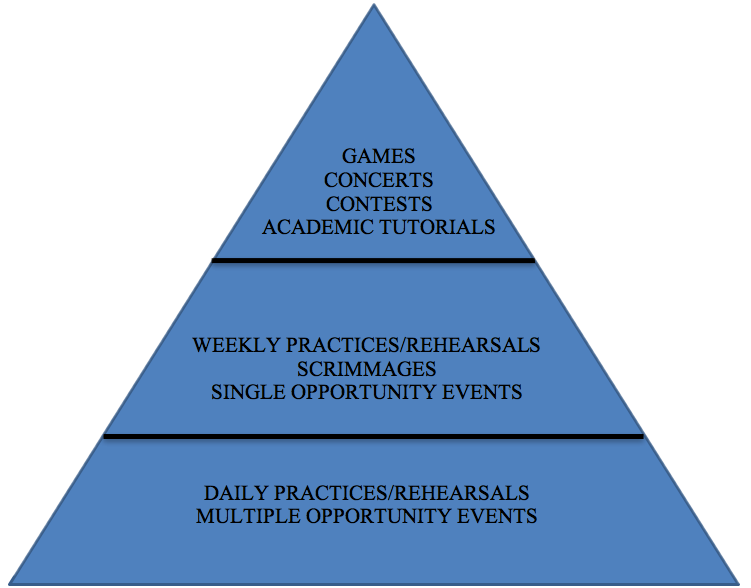 ---
Should my child be practicing?
---
Yes! Follow these guidelines to start the proper schedule.
Practice for results, not just for the sake of "putting in time."(NO TIMERS PLEASE)
Keep distractions to a minimum: no radio or TV while practicing.
Set up a daily schedule and stick to it. Treat practice as part of your homework.
Always use a metronome AND tap your toe! This greatly enhances your sense of pulse.
Always use a music stand. This helps avoid the formation of bad habits.
Try to follow a daily routine:
Warm-up exercises used in class each day
Fundamentals (such as scales or exercises)
Review material covered in class that day
Practice assigned material
Work ahead in book or music to material not yet covered
Practice private lesson material or other material assigned by the band director
30 minutes a day will be much more beneficial to the student than trying to make up by doing longer chunks of time every few days.​
Parents should monitor practice and attest that the student is submitting his time honestly. Academic dishonesty will result in severe consequences at the discretion of directors.
---
What are All-Region Auditions?
---
All Region Band Auditions take place in November. Wind Symphony Band Members are required to prepare the music and scales for this audition. It is expected that both group's members will participate in the All Region.

Students from across our region participate in these auditions. The audition material consists of scales and two prepared pieces. Students are judged by a panel of three to five judges who sit behind a partition to listen to each student perform their music. This process protects student anonymity and the integrity of the audition process. The top students are selected from these auditions and receive the honor of participating in the All Region Band Clinic and Concert. The All Region Clinic and Concert will be held on a Friday (clinic) and Saturday (more clinic and then concert in the afternoon) in December. Selection to the All Region band is one of the highest honors a middle school student can achieve. At RMS, our philosophy emphasizes the improvement each student experiences as a result of participating in the All-Region Band process. Students will be required to play all scales and audition music for the band directors prior to the audition date. This is a major part of the grade of all Wind Symphony members during the fall semester.
---
What is a Clinic/After School Rehearsal?
---
A clinic is a band rehearsal held outside of normal school hours. Clinics are usually held in conjunction with the a band's preparation to perform in the various contests and festivals it attends during the spring semester. Well-known, highly respected band directors are brought in to work with the band during a clinic rehearsal. This allows students to be exposed to some of the finest directors in the field, thus augmenting the students' music education. Clinics also afford the band a more extended rehearsal period to supplement the 40 minutes that the class day offers. Clinics are a very important part of our contest preparation and the musical growth of our students.
---
What is a Contest/Festival?
---
A contest is a competitive performance. All bands participate in several events during the spring semester. These events are: One Pre-UIL Concert and Sight-reading contests, the UIL Concert and Sight-reading Contest, and another competitive Festival in the weeks following the UIL event.
---
What is Solo & Ensemble Contest?
---
All RMS Band students participate in the Rosemont Solo and Ensemble Contest. All students are required to perform a solo with at least CD accompaniment, however the majority of percussion solos do not require accompaniment. The soloist is generally judged on a scale of I (Superior), II (Excellent), III (Good), IV (Fair), V (Poor). Students that receive high marks are awarded a medal or ribbon.
---
What are Sectionals?
---
Wind Symphony and Symphonic Band members are required to attend a 60 minute sectional rehearsal once per week (see online calendar). It is during sectional time that playing tests and initial objective pass-offs are administered. Students will receive more individualized instruction on material covered in band and will be given specific information on how to improve their skills on their specific instrument. Think of band as a class of about 10 different classes – 10 different subjects at once because each instrument is very different – most of class time will be spent learning important ensemble skills and how to play together and be a team. Think of sectional rehearsals like a specialized class for just one subject or a lab for enrichment. Sectional rehearsals are the single most critical factor to the success of the bands, and attendance is very important. Please do not schedule appointments (i.e. orthodontia etc.) during section rehearsal time. Tutorials for other classes are built into the morning schedule so that students do not have to miss sectionals (tutorial time is from 8-8:30 every morning). The schedule will be posted during the first week of each semester or sooner. This schedule may change to help facilitate athletics and unexpected conflicts. ​
---
---